There are SUVs, and then there are Ford brand SUVs. In a class by themselves for style, performance, and personality, the lineup of Ford Expedition SUVs we have available at Maplecrest Ford Lincoln is synonymous with fun and adventure. The new Expedition models you will find in our dealership come equipped with state-of-the-art technology for optimal performance and safety.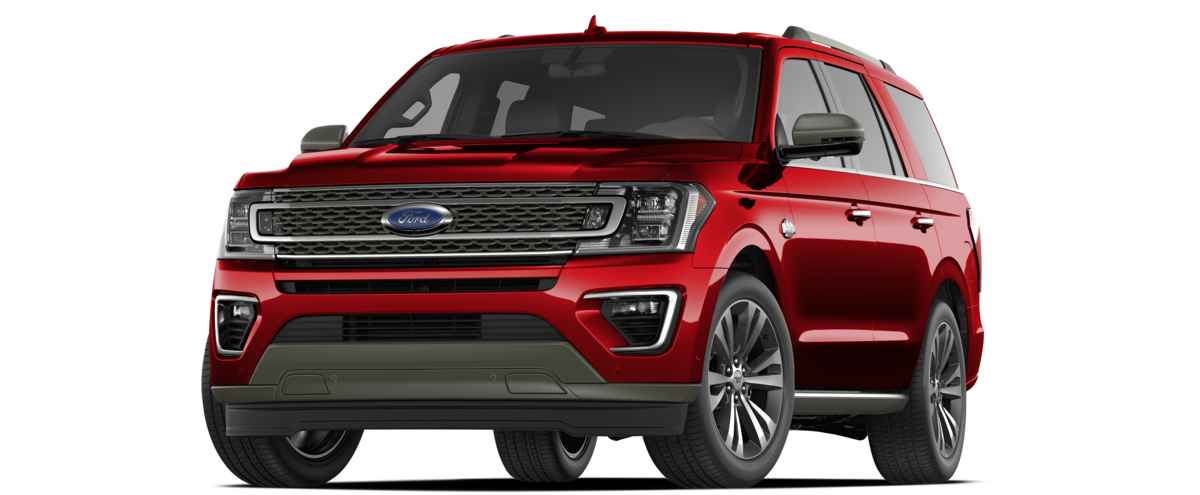 New Expedition Powertrain Overview
The powertrain delivers the performance you deserve for your travels around Vauxhall, NJ. The 2021 Ford Expedition uses a 3.5-liter EcoBoost® engine that utilizes direct injection and twin air-to-air turbocharging technology to maximize power. A 10-speed select shift automatic transmission with optimal gear spacing gives better acceleration. Driving across Vauxhall is stress-free because the engine produces 400 horsepower and 480 pound-feet of torque. The EPA-estimated fuel consumption of the Ford Expedition measures 17 mpg in city traffic and 23 mpg on highways.
Hill-Start Assist and Hill Descent Control tech are helpful when towing because it restrains the SUV's power and capability. The Ford Expedition can stay in place for about two seconds because of anti-lock brakes and hill start assist. It gives you time to move your foot from the brake to the accelerator pedal. The braking system automatically engages as needed when descending a steep slope using a standard hill descent control when using 4WD.
The 2021 Ford Expedition utilizes controlled damping to protect against jarring impacts. It minimizes the cost of repairing tires because of poor road conditions. Additionally, the front and rear suspensions are independent. The suspensions enable vehicle stability and impressive handling of corners.
Safety and Security Features of the Ford Expedition
You will enjoy the driving experience if you feel that your SUV is safe and secure on the road. You will not have to worry when you drive the Expedition because the Ford SUV comes with the latest safety features you will find on the market. They protect the driver, passengers, and the vehicle from potential hazards on the road. Utilizing Ford Co-Pilot 360™ technology, the features include automatic high beam headlamps and more.
You can concentrate on the steering wheel because auto high beam headlamps automatically dim upon sensing oncoming traffic and prevent blinding other drivers. They adjust the brightness to suit the surrounding lighting conditions and make the road ahead visible. You can also drive without the fear of hitting pedestrians and other potential hazards when you get alerts by the Pre-Collision Assist with Automatic Emergency Braking feature. Brakes apply automatically if you do not take corrective measures to avert a collision.
Driving on busy freeways is not a problem because the BLIS with Cross-Traffic Alert feature alerts you of vehicles in your blind spots when you need to change lanes. Cross-traffic alert detects traffic behind you, especially when reversing from the driveway or parking spot. A Lane-Keeping Assist feature maintains your Ford Expedition between driving lines and alerts if you start to edge out of the lane.
The Ford SUV's rearview camera provides a great view of your vehicle's behind without stretching your neck. Do you need extra assistance when parking? Enhanced Active Park Assist enables parking in tight spots, both perpendicular and parallel. Once the system activates, select shift, accelerate, and brake as the vehicle parks unaided.
Additionally, the Adaptive Cruise Control feature detects traffic ahead when it starts slowing down and subsequently adjusts your speed to maintain a safe driving distance. Equipped with stop and go, the Ford Expedition can stop and reset to previous driving speed after traffic clears.
At Maplecrest Ford Lincoln, we're proud to be your local home for the 2021 Ford Expedition SUV. Visit us to learn more from our technical experts about the above features and the Ford Expedition trims to suit your needs in Vauxhall.